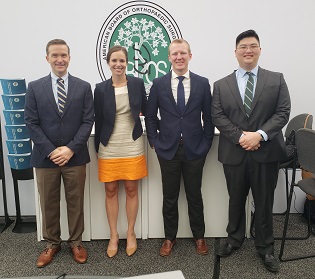 The American Board of Orthopaedic Surgery (ABOS) launched its Resident Advisory Panel in 2021 and is looking for its third group of panelists. The Resident Advisory Panel's purpose is to provide resident feedback to the ABOS Graduate Medical Education Committee as well as the ABOS Communications Task Force. The ABOS's goal is to assemble a group of orthopaedic residents and give that group the opportunity to provide a resident's perspective to the ABOS, talk with members of the ABOS Board of Directors, and meet other orthopaedic surgery resident leaders. The ABOS is looking for three residents who are interested in making an impact on their profession.
The panel is open to orthopaedic surgery residents who will be in PGY2 through PGY4 in an Accreditation Council for Graduate Medical Education (ACGME) accredited Orthopaedic Surgery Residency program as of July 1, 2023. Selected residents will serve on the panel for two years. The newly selected panelist will work with the current group for one year.
There will be several virtual meetings each year. In addition, there will be an in-person meetings each year at the AAOS Annual Meeting. The ABOS will cover all direct costs for the in-person meeting, including travel, hotel, and meals. There will also be periodic email requests for feedback from the Advisory Panel.
Residents who are interested in applying must submit the following items together as ONE attachment in an email to residents@abos.org by March 1, 2023:
CV
1-page personal statement outlining your reasons to serve. Please include information about a residency-related problem that you faced and how you went about solving it
Letter of recommendation from your Residency Program Director
Applicants will be notified of their status by May 2023. If you have any questions, please contact residents@abos.org.
Current members of the ABOS Resident Advisory Panel are:
Matthew Booth, MD, Washington University
Erik Fritz, MD, University of Minnesota
Steven Greene, MD, University of Mississippi Medical Center
Alex Gu, MD, George Washington School of Medicine and Health Sciences
Michelle Lawson, MD, Oregon Health & Science University
Madeline Lyons, MD, Loyola University Medical Center
Joseph Sliepka, MD, University of Washington
Claire Isabelle Verret, MD, Zucker School of Medicine at Hofstra/Northwell